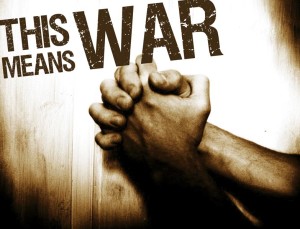 We crouched around the mat as seconds ticked off the clock, everyone thinking we could—we might—do the unthinkable.
Canton Wrestling hadn't beaten its cross-town rival, Salem, in twelve years. Those weren't twelve years of friendly close calls, either. It was over a decade of dominance—bitter, in your face, taunting dominance.
In the previous Canton coach's last year, during a usual spat, he swore to the Salem coach he would beat them. They lost 48-9.
Enter Dad & Co. He brought in top assistants, a new work ethic, and a visionary approach to leadership and began rebuilding the rubble that was Canton Wrestling from ground zero.
And here we found ourselves, three years later, on the verge of the unthinkable—beating Salem for the first time since anyone could remember.
[Buy Breathing In and Breathing Out for under $8.99 in paperback and $2.99 on Kindle]
[<–Back to Chapter 9]    [Skip to Chapter 11–>]