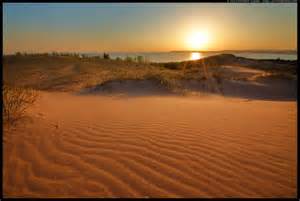 This is the point at which we have found ourselves. The church is waiting, like the dunes of northern Michigan along the great lake, where legend tells of a bear who fell asleep beside the waters and was covered with sand that blew over it. It never awoke, thus beginning the Sleeping Bear Dunes. People trek for miles across these dunes to see the beautiful waters, few knowing what may slumber beneath.
Another legend tells of a woman of noble birth taking her place under a great assembly of the hosts of heaven above. A cloud of witnesses treks across the celestial sky to see her splendor, fully aware of the great mystery she holds. Only, in the legend, the woman too is asleep. She does not know the full power and beauty that encompass her. That she is now a part of.
No one knows why she fell asleep beside the eternal waters. But a world that whispers of her beauty and stops to stare at her transcendent majesty wonders if she will awaken. It hopes the legend is true and there really is a deeply profound mystery buried beneath.
She is the church.
[Buy Breathing In and Breathing Out for under $8.99 in paperback or $2.99 on Kindle]
[<–Back to Chapter 7]    [Skip to Chapter 9–>]