Today, I'm going to blow your mind. Actually, I'm going to take on one of the most deeply rooted, commonly accepted social standards in the Christian faith. My goal is to blow your mind. I will probably succeed in sincerely offending you.
I am not trying to offend. I don't want to. But it's likely unavoidable when one challenges such an accepted, widespread practice. What is this dreaded social pit into which a vast portion of the Christian church has fallen, you ask? Oh, well that's simple.
Welch's grape juice.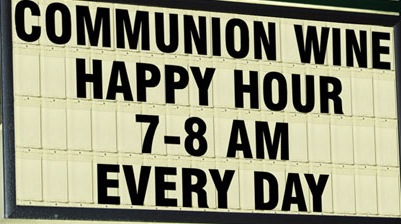 Today, I  am going to prove churches (yes, yours) should serve wine on Sunday mornings. Yep, during the wee hours many counties around the nation do not allow unbelieving Americans to buy alcohol, churches should be serving it as a viable Sunday morning worship experience. Or at the very least I will prove if a person believes churches should never serve wine, one must also live by the letter of the social law in every way one might offend. Or deeply risk being hypocritical.
I'm aware that if I don't clear up some misconceptions first, no one will ever take me seriously. So, when one brings up alcohol and Christianity, what verse leaps to mind? Sure, you can dredge up others if you have to, but there's a favorite teetotallers of the world happily unite around (with Shirley Temples).
"If food causes my brother to stumble, I will never eat meat again." So…because alcoholics exist, and some of them may be watching, we should never drink, right? And certainly never serve it in church.
Unfortunately, there are major problems with this assault on a casual Sunday morning sup and sip:
1. It's a bad analogy- In Paul's day, eating meat sacrificed to idols led believers to worship idols, pay homage to demons, and seal the deal with sex with temple prostitutes. Now, I will not compare sins — alcoholism is a destructive vice — but purely from a logical perspective, the corrosion of brothers' faith was not an aimless shot-in-the-dark fear. It was:
A) an imminent threat (it was actually happening regularly), and
B) a direct one, not an indirect apprehension that someone may see something that may have a negative effect that may be unnoticed.
Translation: not eating meat was a direct response to proof that damaging consequences were occurring by Christians eating it, not an indirect rationalization of fear of the unknown.
2. Alcoholism was a problem in Paul's day, but he chose to specifically address eating meat- We know Jesus' society struggled with alcoholism because Jesus was accused of being a glutton and a drunkard. That wasn't like calling someone a wuss in a Fat Tuesday paczki eating contest. It proves being a drunk was a well-understood vice and people actually fell into it. However, in letters to the church, Paul advised a balanced approach of drinking a little wine and never advocated anything but wine for Communion, even when people were abusing it by actually getting drunk in church.
3. The Jesus factor- There's another major flaw with using the fear-of-encouraging-drunkenness argument to advocate supplying massive quantities of sweet, tart, entirely harmless, but still slightly addictive fruit concentrate to the masses in church.
Jesus wouldn't do it.
Jesus supplied what historians understand to be 120-180 gallons of wine to a wedding reception full of people, many of whom were already drunk. I know this is hard to believe, but that's exactly what Scripture is implying when it says the Master of Ceremonies came to the bride and groom astonished because "everyone brings out the choice wine first and then the cheaper wine after the guests have had too much to drink, but you have saved the best till now."
Um, Jesus — did you know what you were doing there? Of course, you did. Your first name is Jesus.
Now, I'm not saying Jesus encouraged drunkenness (nor do I) when the Bible actually discourages it, but this is pretty big news to the modern church. Although alcohol abuse is awful, there are (gasp* -don't say it) some things that are just more important. That little wedding in Cana represents the union of Christ to his Bride. And that wine — the joy and fullness of life found in Him.
And that's the point. There are some things so important Paul (who'd happily abstain from meat), or Jesus (who started this whole Communion thingy), wouldn't think of giving up.
But, why wine?
Thank you for finally asking.
Simple. Wine is the most important symbol in human history. What?
I didn't say it's the most popular — it's the most important. The cross is the open-the-sky-Hallelujah-chorus revered Christian symbol — of Christ's sacrifice and death. It's the implement of destruction on which the hopes of the world hung. But wine is the blood. It is the cleansing that makes you whole. It is the hope of the world.
That's why pure spotless lambs in the Old Testament were skewered and splattered all over the altar. It wasn't about the altar (the cross), but a Savior whose blood would be spilled for the redemption of the world. And the life in that blood.
But here comes the zinger. Symbols, they aren't just pretty things we pick up and use to point at a target at whim. We can't decide a thumbtack is our new symbol for grace that pins our sins away. Or make goat's milk Communion for some weird Good Shepherd fetish. Every connection of God's symbols has meaning.
Wine has two:
The crushed grape- The grape was crushed to produce the fruit of the vine as Christ was crushed for our iniquities. We'll give grape juice a pass on this one. Minus the iffy-ness of filtered water and grape juice concentrate, this is a big check mark.
The alcohol represents the power of the blood- Don't underestimate the meaning here. No irresistible Welch's sweet tart tang can replace the alcohol as a symbol for the potency of the blood.  You wouldn't want to take that out of the blood, would you? Why would you take it out of its symbol? Remember, you didn't get to choose the symbol. God did. But for comparison, alternately, if a friend has an aversion to death that has previously prompted suicidal thoughts, you wouldn't change the cross to a teeter-totter in your gospel presentation, would you? They're both made of wood. No, you'd love and disciple your friend without compromising truth.
This is one of the great swing-and-a-misses at the tee for the church of our generation.
But the real issue that gets to me at the heart of this is — why won't we follow Jesus?
We talk a great game about "What Would Jesus Do?" and we follow all the love and kindness, but when he brings up a controversial topic we disperse faster than a crowd who's been asked to drink blood.
C'mon. Let's all be honest about this. It's not because the Bible says so. It doesn't. It actually strongly shows the reverse by Jesus and every disciple we revere.
The reason we hate wine so much is because drinking has become the most vilified religious social taboo. That's it. With a distant second of nasty chest tats. But it's not *ahem* a biblical taboo.
So, here's the thing. You have to choose — man's rules or Christ's. It's not too different from the Pharisees' choice over the traditions of men. Are you going to follow the accepted church social norm or Christ? Which did He choose?
And here's where we have to face the seventh inning stretch and we can't just kick the dirt, scowl, and take our tee ball home after striking out. If you base your decision to remove wine from church on an extra-biblical, indirect fear that you might cause anyone to sin — however rational it may be — you have to do it in every area of your life to that same extreme or you are a hypocrite. Yep, I said it. Hypocrite.
Whole moral law or nothing. There's no other option. If you're willing to believe the cup of the new covenant in Christ as he advocated and served it is so dangerous it should be removed, then you sure as heck better not wear jeans or slim-fit pants if you're a woman. Or allow your wife to be seen in public in anything but a hajib (Middle Eastern women's garb) if you're a man. Or develop friendships with women you don't intend to marry. You better not watch R-rated movies, go to theaters where R-rated movies are shown, play Grand Theft Auto, bump Tupac or Lil' Wayne in your Sedona, visit parties, nightclubs, or bars. Or have junior's birthday bash at Chuck E. Cheese's — where alcohol is served up with the ball pit.
Or do anything that may cause anyone to be offended, regardless of your convictions.
Because the mere presence of your Express blue jeans is at least as likely to cause lust as communion wine causes alcoholism, bolstered by the sheer volume of people who are actually tempted by it. Not to mention the violence, prostitution, lasciviousness, rape, violence against women, and reckless parent altercations at kids' one-year-old parties perpetuated by the activities above, which rank right up there with the best of 'em. Are you willing to maintain the same level of distance from anything that may indirectly lead someone to sin as you claim the cup of Christ would?
Are you willing to wear long skirts?
If you live by a social law that eliminates one behavior on the outside chance it may indirectly cause sin, without any direct relationship or proof, you must follow that law in every area of your life without exception. Or you're a hypocrite.
Man's reason and rules look so good to us. They make a neat, tidy bed we can sleep in, while visions of sugarplums and safe religion dance in our heads. But Christ implied they produce illegitimate children. And wisdom is proved right by following Him.
Shouldn't our witness look like Him, anyway?
Hey, I'm all in favor of providing a grape juice alternate for recovering alcoholics to drink at Communion. I think that's a great option. We should think of others.
But eliminate what Christ drank, blessed, and called his blood, and then told us to drink as often as we remember it?
Not on your spiritually symbolic life.