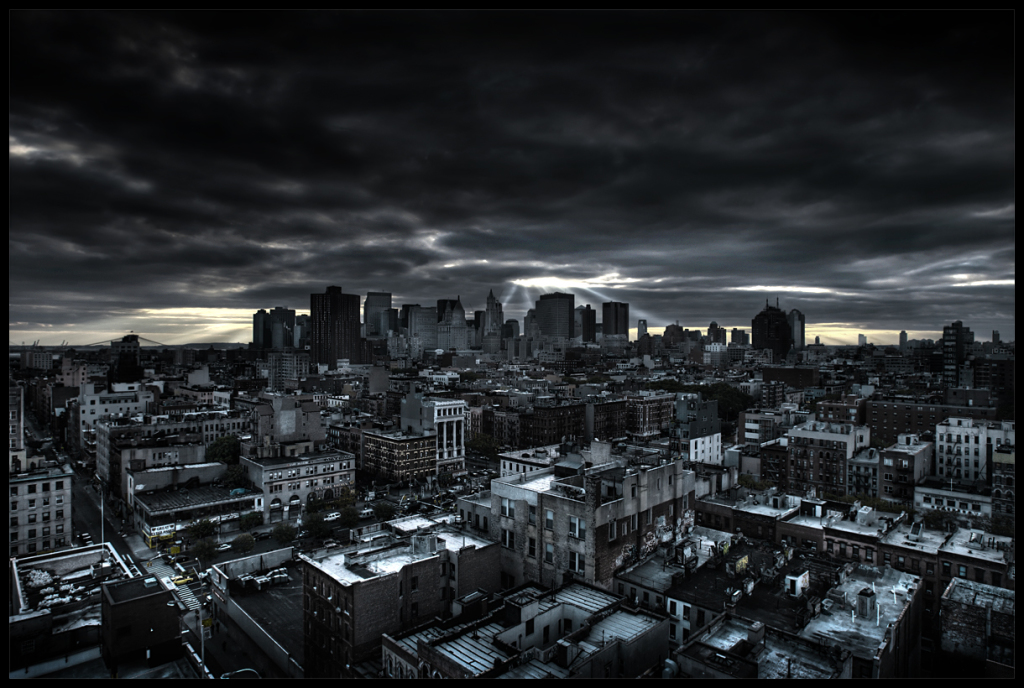 You need to go ahead and watch Left Behind with Nicholas Cage when it comes out on RedBox. Please. Do it for you. I insist.
Call up the neighborhood kids to stuff crackers in the baby, pre-order a copy from your iPhone, and head over to a friend's for a double-date to see this godly film because **oh my gosh Nick Cage is in a Christian movie!!!!!
Just please don't watch it because it's biblical. Don't do that. Because no matter how many times you click your heels and pray, "There's no place like home," — it just ain't gonna happen. Not even with Nick Cage. Not by a long shot.
—
Now I know this is a controversial topic. I'm also aware it doesn't matter. Not really. One of my all-time favorite responses my father gives when people ask him if the end is coming soon is to turn, with a distant look in his eyes, and thoughtfully say, "Well…" then grin really big, "It is for you."
The end is coming. For me. For you. It doesn't matter how it happens. What matters is what we do with the time until then. That we make sure we aren't in danger of being shut out like virgins without oil or guests without wedding attire.
The rest doesn't really matter.
That said, it is a matter of Scripture, and for some reason people really, really care about this topic. Like, a lot.
I'm talking about the rapture, of course. Jesus beginning his approach but not finding optimal landing conditions for touch-down and deciding to do a fly-by and circle around for another attempt. That rapture.
If you're familiar with the rapture, you know the main Bible verse it is based off of:
As it was in the days of Noah, so it will be at the coming of the Son of Man. For in the days before the flood, people were eating and drinking, marrying and giving in marriage, up to the day Noah entered the ark; and they knew nothing about what would happen until the flood came and took them all away. That is how it will be at the coming of the Son of Man. Two men will be in the field; one will be taken and the other left. Two women will be grinding with a hand mill; one will be taken and the other left. (Matthew 24.37-41)
One taken. One left. Left Behind. A romantic idea, to say the least. This vague Scripture is the whole beginning point of a theology that has Christ taking us ahead of the crowd, coming again to rule on the earth after it's endured a host of judgments.
Fast forward to 1 Thessalonians, which seems to connect with this fantastical idea.
Then we who are alive, who are left, will be caught up together with them in the clouds to meet the Lord in the air, and so we will always be with the Lord. (1 Thessalonians 4.17)
The problem is, the only way to believe in the rapture as it's known today for its flying acrobatics and disappearing act is to ignore everything Jesus said directly before his widely popular "one taken, one left" statement. It's amazing people miss this. People get caught up (ahem) in interpreting Revelation, a highly symbolic and difficult book to analyze, and they skip right past what Jesus clearly and explicitly explained would happen at the end.
If they read Jesus' red letter words carefully, they'd put away their ruby red slippers for good and wake up with only a strangely vague remembrance of swirling clouds and witches on bicycles.
So I'm going to take you through them — I only ask that you give it a chance — and if you still believe in the rapture at the end, I'll give you a few pointers on how to properly be prepared for take-off.
The passage starts with the disciples asking Jesus about his coming and the end.
"Tell us," they said, "when will this happen, and what will be the sign of your coming and of the end of the age?" (Matthew 24.3)
It's fair to note that nowhere in Jewish history was there ever an idea of multiple comings. The disciples connect Jesus' return, which was often anticipated by the church, with the end of the age. The end they are asking about clearly is when the age of this world is over and we go on to the next of heaven or hell. That is the only end the Jews had a concept of.
Jesus' response is telling.
You will hear of wars and rumors of wars, but see to it that you are not alarmed. Such things must happen, but the end is still to come. Nation will rise against nation, and kingdom against kingdom. There will be famines and earthquakes in various places. All these are the beginning of birth pains. (Matthew 24.6-8)
He says not to be alarmed when you see these birth pains, because the end is still to come, not that you don't have to worry because you will be removed from them.
He goes on to explain what will happen to Christians next.
Then you will be handed over to be persecuted and put to death, and you will be hated by all nations because of me. At that time many will turn away from the faith and will betray and hate each other, and many false prophets will appear and deceive many people. Because of the increase of wickedness, the love of most will grow cold, but the one who stands firm to the end will be saved. (Matthew 24.9-13)
This is an essential truth if one is to understand whether the rapture occurs or not. God's idea of Christianity at the end of time is not removing us from pain and danger but "he who stands firm to the end will be saved." Christianity is a religion of enduring and overcoming, not being snatched before danger arrives — out of Jesus' own mouth about the end.
In case you wonder if this is just the end of Christians being here or the end of the age of humanity, he goes on.
And this gospel of the kingdom will be preached in the whole world as a testimony to all nations, and then the end will come. (Matthew 24.14)
There is a clear timeline, and Christians are here preaching the gospel up until the very end. Jesus leaves no debate about this. No room for ruby slipper tapping and yellow brick road wishing our way out of danger.
This is the truth out of the mouth of the Word made flesh. He then instructs what his followers, Christians, should do when they find themselves at the end trials — run to the hills, don't go back for a coat. It won't be pretty. Sadly, he's speaking to us. Christians who are there at the end time. He says,
Pray that your flight will not take place in winter or on the Sabbath. For then there will be great distress, unequaled from the beginning of the world until now—and never to be equaled again. (Matthew 24.20-21)
There is no way to believe this Scripture verse and believe we are removed before the tribulations of the end. Because that is what Jesus explicitly, and undeniably, says.
And Jesus tells us it is exactly because it will be so hard for Christians at that time that he is telling his followers now. Listen,
If those days had not been cut short, no one would survive, but for the sake of the elect those days will be shortened. At that time if anyone says to you, 'Look, here is the Messiah!' or, 'There he is!' do not believe it. For false messiahs and false prophets will appear and perform great signs and wonders to deceive, if possible, even the elect. See, I have told you ahead of time. (Matthew 24.20-25)
The days will be cut short for the sake of the elect, so some remain, so not all give up the faith when we are being tested in what Jesus calls distress "never to be equaled again." And then he says the end will come.
Immediately after the distress of those days,

"'the sun will be darkened,
and the moon will not give its light;
the stars will fall from the sky,
and the heavenly bodies will be shaken.'
"Then will appear the sign of the Son of Man in heaven. (Matthew 24.29-30)
Essential to rapture theology is that Christians are spared from the judgment of that time. But Jesus specifically states "immediately after the distress of those days." The days where the elect are praying for their flight not to be in winter and possibly being deceived by the great signs of the end. We're there at the end.
And the sign of the Son of Man is not just a pass-by attempt collecting his people and leaving the rest in a night-raid with questions about scattered clothing and missing relatives. This is a devastating heavenly catastrophe that spirals the universe out of control at the end of time. Perhaps the sun will turn into a super nova and die. Perhaps the magnetic orbital powers of the universe will spin out of control. We don't know. Only one thing is clear. Tha-tha-tha… that's all folks.
The next verse makes the process plainly clear:
And then all the peoples of the earth will mourn when they see the Son of Man coming on the clouds of heaven, with power and great glory. And he will send his angels with a loud trumpet call, and they will gather his elect from the four winds, from one end of the heavens to the other. (Matthew 24.30-31)
All of a sudden it becomes clear the context of what is written of in 1 Thessalonians. Jesus' conclusion of the end above is almost exactly what Paul says:
For the Lord himself will come down from heaven, with a loud command, with the voice of the archangel and with the trumpet call of God, and the dead in Christ will rise first. Then we who are alive, who are left, will be caught up together with them in the clouds to meet the Lord in the air, and so we will always be with the Lord. (1 Thessalonians 4.16-17)
In comparison, now it makes sense. Being caught up is what happens after the birthing signs, after Christians experience the worst testing of all time, after many try to deceive even the elect, after "the distress of those days," when the stars fall from the sky and the universe spirals to its inevitable end — then and only then — Christ returns. The angels are with him. The trumpet sounds. The elect — all Christians — are gathered up with him.
After this is when Jesus goes into the "one taken, one left" passage as a warning that we won't know when it comes. Not some secret worldwide missing persons event, but the events he just explained which he calls "the end" multiple times. And "one" will be taken with him, another left before judgment.
These passages happen exactly in that order, and they can only be understood in the context of Jesus' speech.
I know a lot of churches teach a rapture theology. It's an interesting idea, but YOU CANNOT BELIEVE IT unless the Bible lines up with it. And Jesus states, in chronological order, the main rapture beliefs cannot be true:
We aren't taken up ahead of the disasters to come.
We go through the world's difficulties and are told to pray as we do.
Many Christians are tempted to fall away at that time (an attempt is made to deceive true Christians).
We are here at the end of the age and overcome.
Unbelievers mourn because they see Jesus coming at the end when he takes us up to heaven (which they would not do if they still had time to change).
THE END.
If you want to be raptured instead, click your heels and say, "There's no place like home." You may not leave your clothes behind, but if you're hoping for the end to come, I promise it will for you.
And that's what really matters. At the end of your life — or of all time — whichever comes first, if you want to be ready for Christ, rapture or not, keep your pre-boarding flight pass ready: prepare your heart for him.
Invite him in, and he'll come be with you and you with him.
In the meantime, your pre-boarding steps for flight check-in:
Trust in Jesus for salvation.
Bear fruit in keeping with repentance.
Invest what God's given you in the kingdom.
And don't worry about being left behind.
But, by the way, I can't wait to watch the movie. Nick Cage is in it, after all.