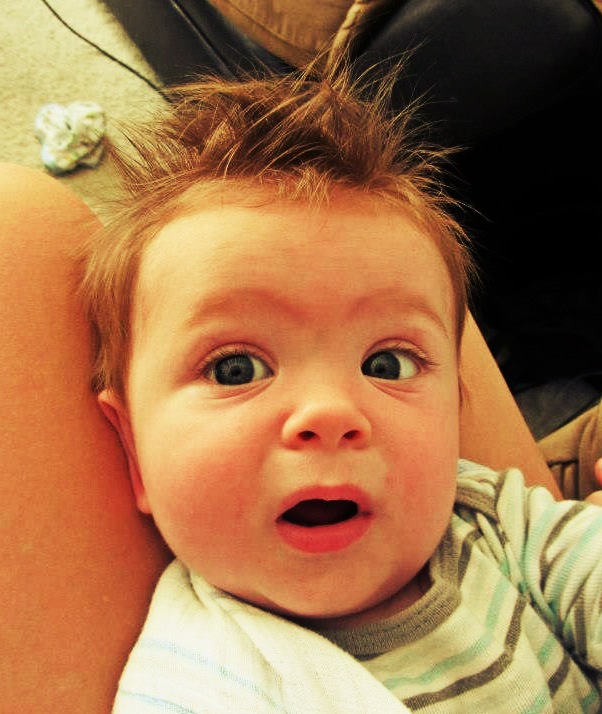 The lights lower. The video screen darkens and people hurry to their seats. It's time for church. A man steps to the podium and begins.
Man: Blah, blah, blah — blah, blah, blah — of the blah, and the blah, and the blah. Aa-blah.
What??
You've come to church for years. But you've probably never imagined what it looks like from two and a half feet up. This is your child's view of church.

Child: (points) Is dat?
You: That's a light.
Child: Is dat?? (No, not that. The guy at the front babbling)
You: A light.
Child: Uh, dat… (Do we always have to do this? Okay, fine. What is the light.)
You: (confidently) Still a light, kiddo.
Child: — Looks at the light — (Thanks.)
A plate with shiny things comes by.
Child: Oooh…. Is daa-at?
You: That's an offering plate.
A tiny hand reaches for a small, shiny object in the plate. A tiny hand is yanked very quickly away from the shiny object.
Child: — looks up at you in a mix of agony and betrayal — Uh! (WHY WOULD YOU STOP ME FROM HAVING THAT BEAUTIFUL SHINY THING?? In response, I will not breathe for five seconds.)
You: (Five seconds, that's pretty impressive.)
Silence. Your child's face reddens with mouth open in contorted agony.
Four, five. Then —
Child: AaYYAAAHHH!
All of a sudden, a louder NOISE fills the air. Everything is forgotten except the vice grip around your arm, an instinctual child safety device, locking your child into place on your lap.
Child: (whimpers) Is dat??
You: We're singing to God now.
Child: Ooh. (Got it. Awful noise = singing.)

You notice the bulletin on the seat beside you and decide to check the sermon notes.
Child: Eh. Eh. Eh! (Is that a coloring book? That's a coloring book, isn't it??)
You: Shh. Not for babies.
Child: (Like heck that's not for babies. You're holding out coloring books on me, old man. I'll give you five seconds till I tell all these people about your plans.)

Your child's mouth freezes in pre-alert mode. You instantly stuff it with a pacifier.
Child: Mum-um-um-um. (Nevermind. It's cool. I don't really know what this was all about anyway.)
The lights in the sanctuary suddenly change to a glow in front. A man walks onto the podium and prepares to speak.
Child: Oh. (Alright. This is gonna be good.)
The Man: Rabble, rabble. Rabblty, babble babble.
Your child stares at the man. Back at you.
And you understand this?
You: (nodding in agreement)  Huh. Yep. Good point.
Child: Okay, must. try. harder.
Man up Front: Rrrrrrrrabbble.
Child: — thinks of favorite stuffed animal — Hah-ha! (Success! A thought!)
You nudge your spouse.
You: Look.
Spouse: Aww!
You stand and walk to the front of church with your child clutching your arm and straddling your waist for dear life.
Child: Eh. Eh. Eh!! (Wait, is that juice? Juice!!! Thank God!! And crackers?!? Oh. No. Those are DEFINITELY not crackers…)
You: It's okay. You'll get a blessing.
Child: (A what?? I hope what you just said means juice.)
You sip the juice. Your spouse sips. Your child…gets a pat on the head.
Child: (Aw, heck no.)
You return to your seats — your child mysteriously glancing back at the front — and sit down. The NOISE returns and you raise your arms and sing with all your might. You, your spouse, everyone worships enthusiastically together and then… a funny thing happens.
Your child looks around. Looks up at you. And says —
"Mum-mum…Dad-da." (I'm going to be just like you, Mommy and Daddy.)
You look down and smile and pull your best little friend in to you.
You: Do you like church, kiddo? Do you want to come back?
In the midst of a chorus of grown-up voices and large people shouting out to God, a tiny head definitively nods and a little voice responds, "Uh-yuh."
(Our children may not understand much in church, but one of the greatest gifts we can give them is modeling our love and worship for God there.)