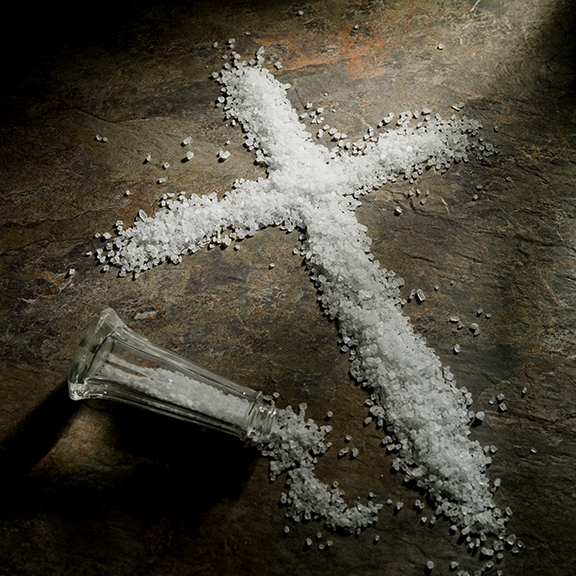 Packed in the middle of the Beatitudes, nestled amidst the merciful, those who mourn, and a righteousness that surpasses that of the Pharisees, is a pair of metaphors that holds the key to your faith. If you can't remember the meeks or poor in spirits, if you don't quite know what it means to fulfill the Law and the Prophets, pay attention to these little metaphors and you'll be just fine.
The interesting thing is they are set next to each other seemingly separate from the rest of the Beatitudes, flashing out as a pair of jewels gleaming in the crest of a ring band. And what's unique about them is they hold the truth of the Beatitudes within their contrast.
They are the light and salt.
Listen to what God says about this,
You are the salt of the earth. But if the salt loses its saltiness, how can it be made salty again? It is no longer good for anything, except to be thrown out and trampled underfoot. (Matthew 5.13)
Salt is interesting because it provides distinction, flavor. It seasons whatever it's mixed into. That is exactly what you are called to do as a Christian. You're supposed to live differently from the world in a way that's fresh and provides meaning and distinction. When they taste you they're supposed to know they have encountered something different.
The Old Testament hints at this.
Season all your grain offerings with salt. Do not leave the salt of the covenant of your God out of your grain offerings; add salt to all your offerings. (Leviticus 2.13)
The salt is a key component to the acceptance of a pure offering to God.
If you want to know how this fulfills the Law and the Prophets, how it fits into that wonderful Old Testament, it's here:
Therefore, 'Come out from them and be separate, says the Lord. Touch no unclean thing and I will receive you.'

And, 'I will be a Father to you, and you will be my sons and daughters, says the Lord Almighty.' (2 Corinthians 6.17-18)
Paul explains,
Therefore, since we have these promises, dear friends, let us purify ourselves from everything that contaminates body and spirit, perfecting holiness out of reverence for God. (2 Corinthians 7.1)
God wants you to be salt. An acceptable offering. With holiness that stands out from the culture.
But notice Jesus' second metaphor:
You are the light of the world. A town built on a hill cannot be hidden. Neither do people light a lamp and put it under a bowl. Instead they put it on its stand, and it gives light to everyone in the house. In the same way, let your light shine before others, that they may see your good deeds and glorify your Father in heaven. (Matthew 5.14-16)
You are light, as well, to shine into the darkness. Meant to display the glory of God proudly, doing works that shine on Him. Giving light to everyone in the house.
This is the light you reflect,
In him was life, and that life was the light of all mankind. The light shines in the darkness, and the darkness has not overcome it. (John 1.4-5)
The light that can't be overcome in you is Jesus.
Have you ever wondered why Jesus put these two metaphors together, shining out like diamond encrusted studs amidst an all-star line up of biblical platitudes? Light and salt.
One shines. The other is different. Both are essential to mature faith.
This is a crucial connection because in our society we usually choose one or the other. Please don't miss this. The importance of light and salt can't be overstated.
Many Christians shine as light, doing good deeds, sticking up for the poor and the outcast, being a voice for the attacked or oppressed, but also proclaiming a gospel that asks nothing of these people when they encounter a loving, holy God. No becoming unlike the world. No "perfecting holiness out of reverence for God."
They make Christian doctrine one that offends no one, shuffles into file in the civil liberties line with a tolerant Christian crowd but stays in step with the liberalism and progressiveness of the godless society, becoming no different from the culture. They might shine, but they provide no salt. There's no holiness that makes this gospel different from the world's.
The other temptation is to display Christian differences boldly, stand up for truth and holiness, the glory of God and the honor of his Word, but shine no light. No message of love or hope goes out. No gentle humanity or radical act of love. No house is flooded with light.
Being a Christian who makes a difference in this world requires a radical combination. It requires you be both light and salt.
Shining the love of God through your good deeds and good-natured humanity — the humanity of a God who humbled himself to become Man and bring life to the world — but also living a faith that is unashamedly different from the world. Being pure and holy. But displaying the glory of God. So you actually save people to something — the life God intended them to live in the beginning.
Without light we are merely righteous critics. Without salt we are casual endorsers of sin.
With both, we can change the world, one person shined on and made holy in Christ at a time.
And the placement of these two metaphors together reveals it.
So How to Be Light and Salt:
Model your faith after Jesus and the disciples.
Stretch across cultural, religious, and moral boundaries (Jesus with tax collectors and prostitutes) and show people that they matter more than differences.
Be bold to live differently from the culture, even if it means offending some people, but PRIORITIZE loving people.
Love them so much they can find no fault in you.
Be a reckless lover of people, and a reckless believer of truth.
Never compromise your light or your salt.
Then the world will see your faith is different. It is real, unassuming, and non-condemning but also saves them to something better than they'd seen before they encountered it. It brings holiness, a chance to begin again with God without guilt. It gives wholeness of mind and heart through truth. And most of all it offers a relationship with God who doesn't fit any paradigm in this world — who isn't safe — but is GOOD.
Without salt, your light is worth nothing. It shines but is trampled underfoot as a world passes by, going on about its business.
Without light, your salt isn't worth much either. It seasons your own little meal, but shines into no one's house. Illumines no darkness.
Light and salt together, however, can change the world.
They are a force to be reckoned with.
They shine. They provide saltiness.
They encounter meek and poor in spirit, merciful and those who mourn, and give them a faith that surpasses that of the Pharisees.
And the darkness has not overcome it.
Never underestimate the power of light and salt.