(This is the beginning of Chapter 13 from Breathing In and Breathing Out by JP.)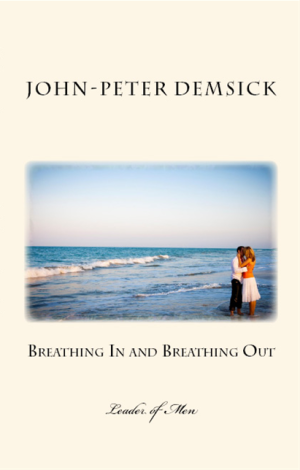 The beauty of this pageantry leads us to the church, created in Christ to draw his family to himself.
To draw his Bride.
He has great plans for her. She is beloved.
He has written an epic tale and invited her to discover it with him. She has come, though often unwillingly. Yet he is filled with desire to pursue her to the final pages.
He'll go to any measure to woo her. He'll take on any challenge to make her his.
But, oh, how she struggles.
Christ, the Lover, longs to gather his Beauty in his arms and sweep her off to a great adventure.
Tiny droplets hit her window pane, and he stands outside, smiles, and motions for her to join him. She returns a half-hearted smile, a distant look in her eyes, and watches him from beyond the glass.
She never fully engages.
The woman by the window could be radiant, but she lacks the willingness to leave her comfort and slosh through the rain that would make her glisten.
If she only understood it's life he invites her into…
Sure, it'll be nasty out there. One doesn't run through the rain without getting a little wet. It's uncomfortable, awkward, soggy, and freeing.
The only way to experience true life is to run right out, Ralph Laurens, TOMS, and all.
The adventure awaits.
The Love of her life beckons.
If she risks it all, no possibility is too great.
Oh, she can stay inside where it's warm and comfortable. But the inconvenience of water-logged boat shoes and ruined day plans is nothing like the pain of the silent ache that there must be something more beyond the ticking drips upon the pane.
And there is.
Soaking, splashing, drenching…joy. The arms of a Lover whose embrace invites unparalleled passion.
Of a kicking, shouting, dancing, skipping, singing-in-the-rain sort of love.
And of life fully lived.
If she takes it, she'll wonder why she ever considered pausing for coat and umbrella at the door.
That is the choice before us. We are the church. We can choose to remain comfortable or follow. One will preserve the sheen on our shoes and keep mud off the carpet. The other will free us. Our Lover is waiting.
The final three chapters point the way.
[Click to read Breathing In and Breathing Out for $8.99 in paperback and $2.99 on Kindle.]
[<–Click to read the beginning of Chapter 12.]    [Click to read the beginning of Chapter 14.–>]