(This is the beginning of Chapter 14 from Breathing In and Breathing Out by JP.)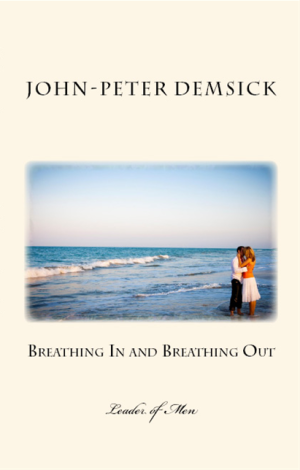 I admit it. I was at the mall. A hot summer's day found me in the food court, slurping cold ice water, and talking with friends. Support for a local Christian business had stirred up the Christian community and much of the church from our area came out.
Angela, six-week-old Luke, and I planted ourselves at a table near the fountain in the middle of the court, close enough to the action to watch the day's events unfold.
While I relaxed to trickling sounds and drew sips from refreshing coldness as it clinked in my cup, a couple guys and I struck up a conversation.
The first excitedly told us about the prominent Christian leader whose church he'd attended for more than a decade…and had his friend heard of him?
Of course.
What a joy it was to learn under such an anointed leader in a powerful ministry. It had been much trouble finding another who measured up.
They just don't make leaders like that anymore.
"Well, you should be able to take up his place. You learned under him," I joked, slapping him on the back.
Sensing the play, his friend smirked, "That's right."
The man grew silent. Head bowed a little.
"Yeah, well, I haven't really been strong in my faith lately. That's why I'm hoping my wife will get me back into things with this new program she's doing."
I sat there stunned. An awkward silence hung over the three of us.
He knew he was off-track, yet hoped his wife would get him back into his faith?
Though surprised by the passivity, I was struck by something far deeper.
You see, my new friend had just espoused the wonders of learning under an eminent, powerful leader for over a decade. A man for whom he could not find a replacement. But the exact goal of the ministry—to disciple followers—had not produced its result in him.
Although he was clearly impressed with it, is it possible the ministry missed something?
Paul pleads, "I urge you to imitate me" (1 Cor. 4:16). In the same letter, he repeats, "Be imitators of me, just as I also am of Christ" (1 Cor. 11:1).
The instructions to imitate Paul are God's clue to how this should work. Paul wants to duplicate everything he is as a disciple of Christ in us. That is discipleship, making followers like the leader—like Christ. It is the goal of ministry.
The extent it does this is the extent it is a great ministry. And from that standpoint, as a church, we've got serious work to do.
[Click to read Breathing In and Breathing Out for $8.99 in paperback and $2.99 on Kindle.]
[<–Click to read the beginning of Chapter 13.]    [Click to read the beginning of Chapter 15, the last chapter.–>]