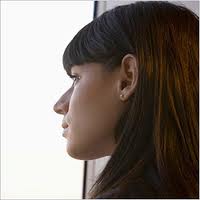 When I first saw it in a gallery in L.A., I knew I had to have it.
The painting, now my favorite, is titled, "Gargoyles," by Michael Parkes. It depicts a young girl, likely coming of age as a woman, who stands atop a stone ledge facing out at blue sky that surrounds her. Beside her lie a teddy bear and jump rope, which appear haphazardly tossed aside. Before her, she blows bubbles from a little wand that drift off the building and across the painting's expansive sky.
What are unique are the gargoyles perched atop the building. Each has come to life. One snarls, roaring in disbelief at the bubbles. Another, most strikingly, jumps off the rooftop, holding a hand over its heart, a look of sheer determination on its face. Its other hand reaches out for the farthest bubble.
The moment I stumbled upon it, ambling through little niche shops and trendy galleries, I instantly recognized in it a picture of masculinity and femininity…
[Buy Breathing In and Breathing Out for under $8.99 in paperback and $2.99 on Kindle]
[<–Back to Chapter 3]    [Skip to Chapter 5–>]