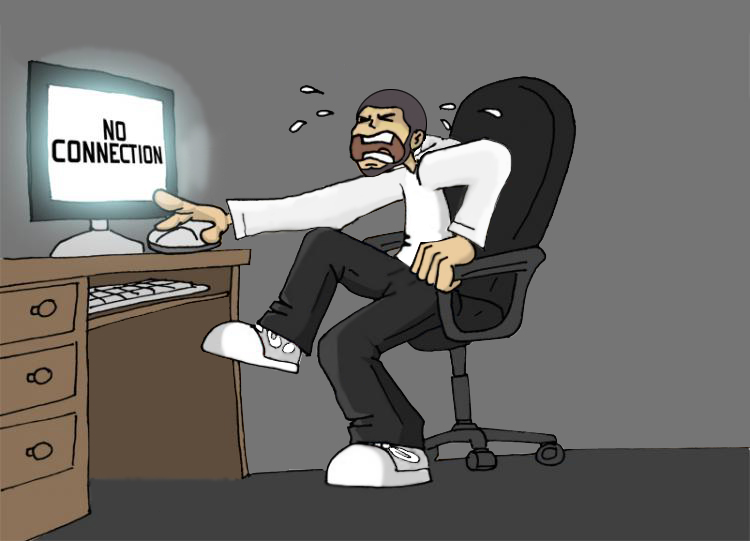 These days it's not easy to talk to God.
We've got a million different ways to communicate — technology that provides video conferencing around the globe with micro-second delay, telephone chats that connect multiple people in any number of countries, email, text message, snap chat, social networks — a million-and-one ways to get in touch with someone at a moment's notice. But in a high-speed, broad band 21st Century, God often seems elusive.
Where has God gone in the midst of our digital chaos? When no Google search or router seems connected to heaven?
He's right where we left him.
I can't tell you how many people who can set up three-way conferences on their phones, initiate a Google chat, or host and share a podcast, have stared at me dumbly and said they don't know how to talk to God.
We fly jet liners at altitudes that would send the Wright brothers into heart palpitation, but can't jog a mile without consulting a Starbucks for medical attention.
We toggle apps that direct us to pinpointed GPS locations anywhere in the world, but can't find our spiritual way home.
We navigate a deluge of high tech, cutting edge multi-media, expertly charting digital waters in a state of near semi-consciousness, with overactive pointer fingers and underactive brains.
We are modern day cave men, sheltered from simple communication with the Almighty by the hypnosis of a continuous rolodex of Facebook posts and Upworthy.com videos.
All the digital power in the world at our fingertips and not one zip of mental drive in our brains.
My daughter, who's one, spent months flailing forward, driving a lane of matted waves across the carpet with her forehead before she learned to lift her neck and crawl. Maybe all we need is help with that first connection before we can go bounding off at spiritual high-speed connectivity.
So it's time to admit we're cave men and do what any cave man would do before re-inventing the wheel.
Let's stop beating our heads against a rock and learn.
Here's How to Talk to God Like a Cave Man When Your iPad Bluetooth Fails:
The King is mighty, he loves justice—
you have established equity;
in Jacob you have done
what is just and right.
Declare the glory of God.
Exalt the Lord our God
and worship at his footstool;
he is holy.
Worship him.
Moses and Aaron were among his priests,
Samuel was among those who called on his name;
they called on the Lord
and he answered them.
Declare the goodness of God.
He spoke to them from the pillar of cloud;
they kept his statutes and the decrees he gave them.

Lord our God,
you answered them;
you were to Israel a forgiving God,
though you punished their misdeeds.
Declare the glory of God.
Exalt the Lord our God
and worship at his holy mountain, for the Lord our God is holy. Psalm 99.4-9
Worship him.
Wait, that's a psalm. Exactly. Who'd you think the cave man is, anyway? It's David. David shows us how to talk to God when you've got nothing but your heart, your head, and a rock to sit on.
There's no formula of exactly how to talk to God. Sometimes David pleads with God then worships. Sometimes he worships then moves on to asking requests.
But if you're looking for hints of how to talk to God, try these biblical tricks:
1. Tell God out loud the wonderful things he's done.
David constantly repeats God's glory out loud to him in a spirit of worship. There is a lot less sitting silently before God in his relationship than praising out loud. Disagree? Look at how many times David says, "Shout to the Lord," "His praise will be on my lips," "Tell," "Declare your praises," "Sing to him." Our communication with God is meant to be vocal.
2. Say what's on your heart. In normal words, like talking to a friend.
David breaks down and tells God what's on his heart.
Save me, O God,
for the waters have come up to my neck.
I am worn out calling for help; my throat is parched.
My eyes fail, looking for my God. Psalm 69.1, 3
He doesn't use special language or repeat incessantly like he's sending spiritual morse code to an unknown planet. Just talks to God from the heart.
3. Go somewhere to be alone with God.
Cave men pray alone on a rock. David spends much of his early adulthood this way, moving from cave to cave.
But when you pray, go into your room, close the door and pray to your Father, who is unseen. Matthew 6.6
Do you search for God that way, in the quiet place?
4. Tell him loving names.
David often repeats names of God that highlight his awesome qualities. This is an important trick to worshiping God from the heart. When you're really in love with a spouse, you call her silly pet names to make her feel treasured. There's intimacy in repeating these names. Use the pet names God left you in his Book to worship him.
"Wonderful Counselor." "Prince of Peace." "Almighty God." "Everlasting Father." "Lion of Judah." "Lamb of God who takes away the sin of the world." "King of Kings." "Lord of Lords."
I repeat these names often when I am praising him. It increases our intimacy and inspires worship in my heart.
5. When you make requests, return to worshiping God and declaring his glory often.
God wants you to ask for what's on your heart — but learn a lesson from David. Don't make it a spiritual panhandling session where currency is exchanged, but one side walks away feeling used for the favor. Your relationship with God — your entire Christianity — should be a love relationship with him. Fall in love with him. Like the Cave Man did.
That's the #1 way to have a prayer relationship with God. You may not be able to text or Google video chat with him, but you can shoot instant messages up to heaven that you're waiting for him in your heart.
That's a quicker — and more secure — connection than any router will ever give. And for a cave man, I can't think of a more comforting thought than that.